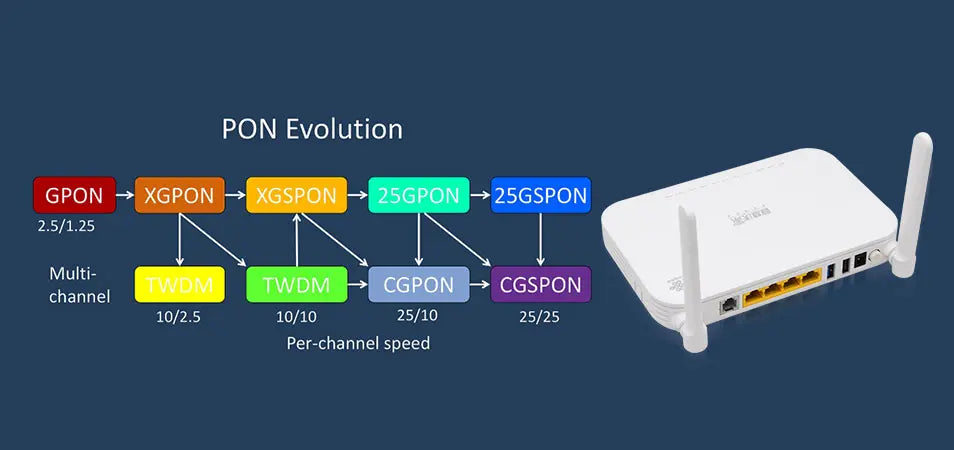 What is 10G PON ONTs?
10g pon ont, access, FTTR, gpon olt, gpon ont, huawei olt, huawei ont, IPTV, ma5600t, ma5800, ont, webui

26 Dec, 2022
This blogs will share basic knowledge of Huawei 10G PON ONTs.
The user-side rate of a Huawei 10G PON ONT can reach up to 1000 Mbit/s, meeting rethe quirements of home users on bandwidth-hungry services such as 4K/8K HD video, AR/VR, home cloud, and video calls. It can also provide private line access services of up to 10 Gbit/s.
10G PON ONT Rate Evolution
PON terminals are greatly faster than xDSL/LAN terminals and are the mainstream choice for home users. With network development, the following issues occur:
EPON and GPON technologies cannot provide sufficient bandwidths for increasingly bandwidth-intensive services.

As user-side access technologies are continuously developing and user access bandwidths are continuously increasing, the EPON and GPON technologies will become bandwidth bottlenecks.

The split ratio and transmission distance directly affect the investment in network construction.
To address the preceding issues, the 10G PON technology is introduced. It can reach a rate of up to 10 Gbit/s.
10G PON can be classified into 10G EPON and 10G GPON, which evolved from existing EPON and GPON technologies respectively. The following table lists the differences in the line rate and effective bandwidths.
Huawei 10G PON ONTs 
The following figure and table show Huawei's mainstream 10G PON ONTs. They support Ethernet, voice, USB, and Wi-Fi functions, and provide users with high-quality Internet access, voice, data, and HD video services.
| | |
| --- | --- |
| ONT Model | UNI |
| HN8346V5 | XG-PON ONT, 4GE+1POT+2USB+2.4G/5G WIFI  |
| HN8145V(black) | XG-PON ONT, 4*GE+1*POTS+1*USB+2.4G/5G WIFI  |
| HN8245Q | XG-PON ONT, 4GE+1POTS+2USB+2.4G/5G WIFI  |
| HN8546X6 | XG-PON ONT, 4GE+2USB+1POT, 2.4G/5G WIFI 6  |
| EN8145X6 | XG-PON ONT,4GE+1USB+1POT, 2.4G/5G WIFI 6  |
| HN8255Ws | XGS-PON (SFP+ Optical Module), 4 GE+1 10GE+2 POTS+1 USB2.0+1 USB3.0+2.4G&5G Wi-Fi 5 |
| HN8145X6v | XG-PON ,4 GE+1 POTS+1 USB2.0+2.4G&5G Wi-Fi 6 |
END