Deploy Huawei FTTR Network: Fiber to The Room Solution
10g pon ont, access, FTTR, gpon olt, gpon ont, huawei olt, huawei ont, IPTV, ma5600t, ma5800, ont, webui

23 Mar, 2023
What is Home Wi-Fi Problems?
 With the increasing demands of home users for latency-sensitive services such as telecommuting, online education, and online games, the global fixed bandwidth industry is changing from providing only bandwidth to providing user experience. However, for most home users, the indoor Wi-Fi test speed is much lower than the subscribed bandwidth. Especially for large households and villas, problems such as insufficient Wi-Fi bandwidth and poor coverage lead to frequent video and game service freezing and high online class gray rate. User experience is severely affected.
What is FTTR?
FTTR refers to the fiber to the room solution which extends fibers from the living room to every room so that Wi-Fi is available everywhere at home.
FTTR is generally an extended FTTH (Fiber To The Home) solution. Drop optical cable terminates at ATB (Access Terminal Box). A patch cord of 1 or 2 m lengths with SC/APC-SC/PC or SC/APC-SC/APC is mainly used to connect ONT to ATB. With FTTH solutions, that's where it ends. The ONT is a bridge ONT or often a gateway ONT.
What is the FTTR network?
The Huawei Fiber to the Room (FTTR) solution uses Huawei's latest Wi-Fi 6 master and slave FTTRs. This solution can extend the ultra-high-speed Wi-Fi coverage to every corner at home, meeting network requirements of low latency, multi-connection, and seamless roaming.
In addition, all-optical components and optical cable construction tools are provided to ensure efficient and convenient network construction without affecting the home decoration and appearance.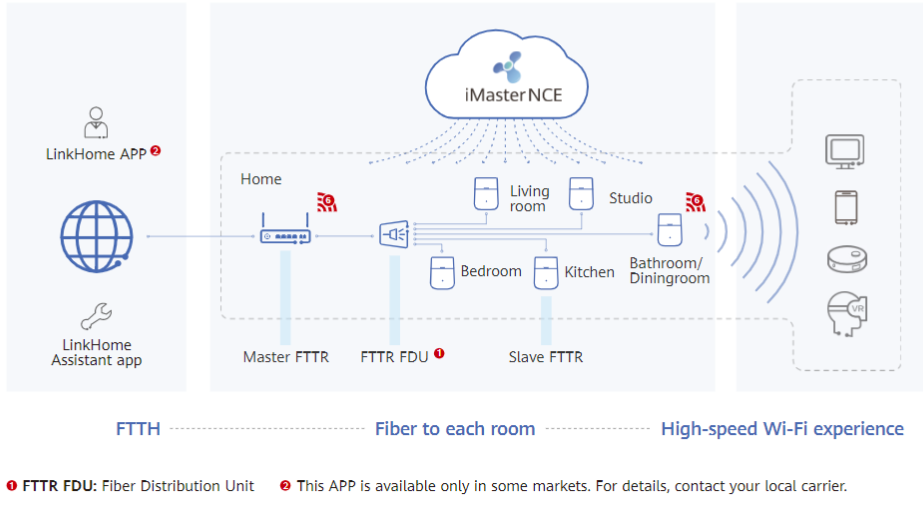 If you need FTTR solution or products like HN8145XR and K662d ONT, pls email us at sales@xponshop.com.